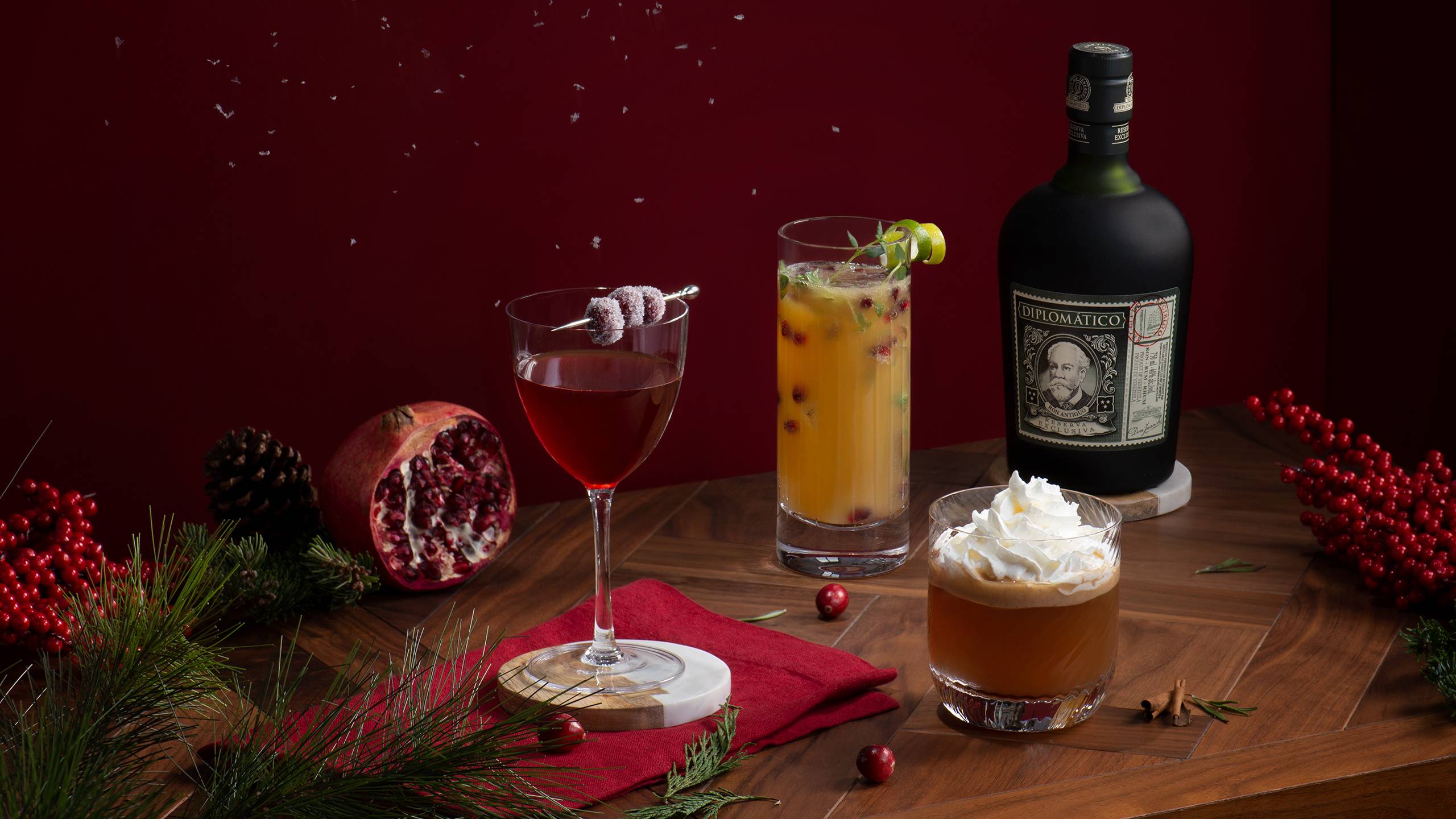 Festive Cocktails to Cheer Up This Holiday Season
15 November, 2022
What makes for more exciting Holiday Season drinks than a festive blend of fragrant rums and balanced mixers? We've got a list of easy festive cocktails to suit the whole family!
Cocktails have shaped the Holiday Season experience of different communities for centuries, as they tend to do during most mainstream festives and events.
In Argentina it's the Anana Fizz; a pineapple based cocktail that celebrates the arrival of pineapples to the Pacific Islands around the time of the 1770s. The fruit quickly became a household staple, and was even used to produce wine for religious celebrations. This is why it lives on as a favorite around the Holiday season!
Moving east, it is well known that our friends in Great Britain remain great fans of mulled wine come the festive season. This festive cocktail can be traced back to the Victorian era, when wine was heated to keep people warm through the winter.
Finally, no festive cocktail history would be complete with a nod at a western favorite: classic eggnog! Eggnog is a creamy concoction made with milk, sugar and eggs, and spiked with either brandy, rum or bourbon. Come December, you won't find many American households who aren't stocked up on the stuff.
As far as eggnog's history goes, we suspect it was simply a derivative of the Posset, a different milk-based cocktail. In 1826 there were "eggnog riots" at the United States Military Academy, when cadets smuggled eggnog into the barracks to make their Christmas Day a little warmer. From then on out, eggnog became the unofficial-official Christmas cocktail in this part of the world. Have you tried it?
While we can appreciate a traditional cocktail as much as the next person, we do also enjoy keeping with the times! Our list of best holiday season cocktails would include the classic holiday drinks such as eggnog and glühwein (mulled wine), but would also have space for some more creative alternatives.
Ever heard of a dark and stormy drink? This bronze-toned cocktail is complimentary to any festive table-setting. It's sweet and balanced, yet spicy — much like a few of your extended family members, no doubt.
You also can't go wrong with some old fashioned winter rum cocktails at Christmas time: hot cocoa made with our Diplomático Reserva Exclusiva, a Mantuano Carrot Touch, or a one of a kind Planas Chai Tea!
We could go on and on, but we want to get to the good stuff! If a white Christmas mojito sounds up your alley, stay right where you are…
Festive Cocktails Recipes
These are our top three Holiday Season cocktail recipes, tried, tested (and perfected) by our very gifted Diplomático mixologists. Consider them our gift to you as we move into this great time of giving and celebrating.
Winter Punch Cocktail
Classic holiday rum drinks generally have very specific flavor components in common: the spirit, a citrus, sweetener and some kind of spice (usually from a premium rum or fresh herbs). This cocktail is the embodiment of winter wonderland festivities, offering layers upon layers of flavor:
250ml of Diplomático Mantuano
180ml fresh chai tea
180ml fresh apple juice
60ml fresh cranberry juice
60ml honey or maple syrup
2 dashes of Angostura bitters (optional)
Garnish: cinnamon sticks, star anise, red apple slices
To make prepare winter punch cocktail simply add the rum, juices and honey into a shaker with ice cubes, and then shake well. Strain into a tall glass containing fresh ice cubes and garnish after dashing the bitters. Sip slow and let the aromas take over!
Christmas Rum Punch 
Similarly, a simple rum punch cocktail can be taken to the next level in terms of flavor by combining dark rum with light. This is another favorite of our classic Christmas cocktails, and it makes for a fantastic welcome-treat for Christmas lunch guests.
Mix this Christmas rum punch by adding the rums, juices, cinnamon and grenadine into a shaker. Shake well, before straining over ice and garnishing with lemon and cinnamon sticks. Then prepare to make another round shortly after serving the first, thanks to popular demand!
Christmas Mojito
And now for the real star of the show, the white Christmas mojito. A visual delight that tastes even better than it looks:
30ml of Diplomático Planas
1/4 cup coconut milk
Lime wedges
1tbs sugar
6-8 fresh mint leaves
Club soda to charge
Pomegranate seeds to garnish
Muddle the lime wedges, mint and sugar in a glass to release their unique aromatic juices and oils. Add ice before pouring in the rum and coconut milk. Top with club soda (should stay milky and thick), then top with pomegranate seeds and mint leaves for that Christmas-color charm.
Best Appetizers to Pair with Holiday Season Cocktails
Now that you've got your festive drink recipes settled, all that's left is the best appetizers to pair with them. Christmas menus are always going to be incredibly objective to the host and guests, but there are a few classic plates that we feel typically pair well with these cocktails.
Bruschetta is always a crowd pleaser, and a standard tomato topping is complimentary to spiced drinks. To balance sweetness, we love simple mushroom skewers (or meat alternatives) for that savory counter! The same goes for a basic garlic bread, and possibly a whipped feta dip on the side. Oh, and we'd be remiss not to include deviled eggs in any Christmas soiree — naturally!
Holiday Season is the season for giving and sharing, and if this article is anything to go by, you just gained a whole lot more to offer this year! Merry Christmas to you and yours, with great love from Diplomático!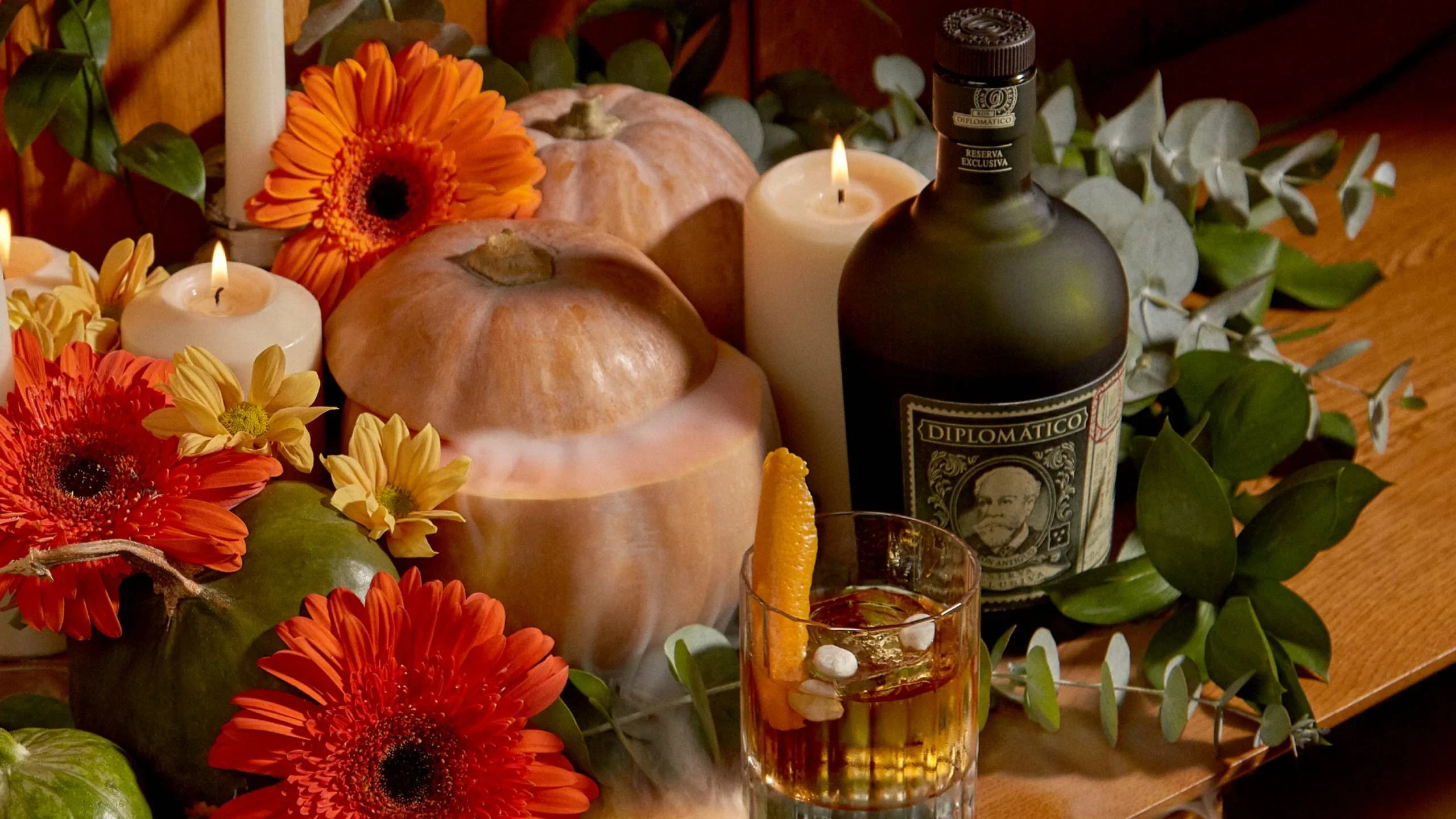 Cocktails
Halloween cocktails with Diplomático Rum
9 October, 2023:
The arrival of October brings one of the most awaited dates of the year for […]