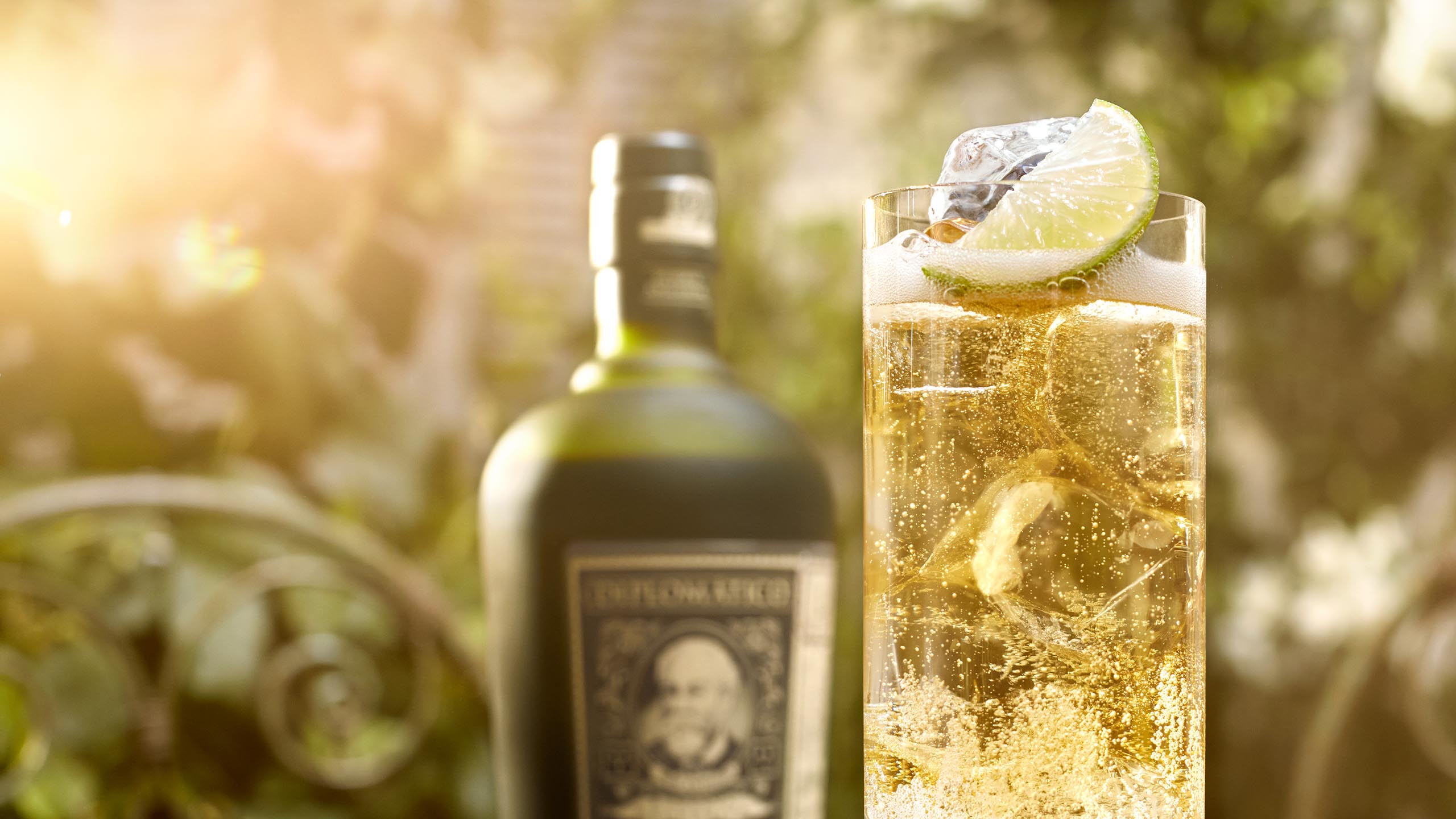 Diplomático Summer Cocktail Collection
2 August, 2022
Which Diplomatico cocktail is your perfect match this summer?
Much like your summer wardrobe, when it comes to cocktails there are always a few old classics, plus some fiery new showstoppers to try out as soon as the temperature starts to rise.
Summer is about savoring the moment. So, whether you're holidaying or staycaying, you need to do it right. We're here to transport those idyllic vacation vibes straight to you with the help of our top five mouth-wateringly refreshing summer cocktails and some sunny suggestions of how best to enjoy them.
Which iconic Diplomático rum cocktail will be your perfect match this summer?
1. Diplomatico Fizz
Get acquainted:
Fresh, sharp and confident. A quick, easy pour with a refreshing sting of flavour to welcome you. Full of zest and sparkling with buoyancy and coolness.
Where to enjoy:
All about the afternoon soiree.
Perfect with:
Chatting and laughing the ends of the warm day away in good, close company.
How to make:
50ml Diplomático Reserva Exclusiva
150ml of soda
Squeeze of lime
Add all the ingredients to a highball glass
Stir
Garnish with a twist of lime
Serve up and see where the night will take us…
2. Diplomatico Mojito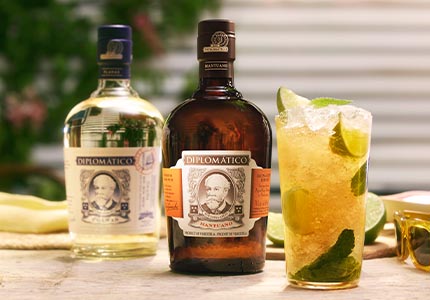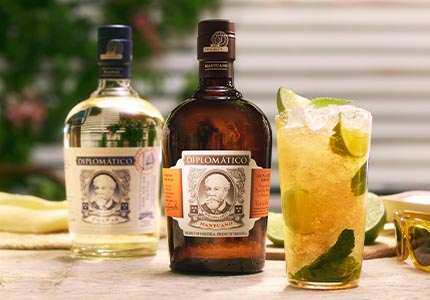 Get acquainted:
Soulful, juicy, bittersweet. A universal summer favorite. A classic rum cocktail with the perfect balance of refreshingly delicious sparkling sweetness with zingy mint and lime. One of the most versatile summer cocktails crafted with exotic Diplomático Planas for a delicate take that doesn't overpower the fresh mint, or with dark Diplomático Mantuano for deeper vanilla aromas and a bit of a twist. Cha-cha-cha!
Where to enjoy:
Alfresco dining, and everyone's invited.
Perfect with:
Fresh dishes like chunky salsa and nachos, ceviche or caprese salad.
How to make:
50ml of Diplomático Planas
5ml lime juice
5ml sugar syrup
25ml soda water
4 to 6 fresh mint leaves
Set the mint in the bottom of a tall glass
Mash it with a muddler (or the back of a knife)
Add the rest of the ingredients (topping with soda and crushed ice last)
Garnish with mint and lime
Serve up and get on down, alongside some deliciously fresh cuisine for extra oomph!
Oh, and if you're feeling like you really want to muddle things up, why not make a Diplomático Dirty Mojito for a little twist on this classic summer cocktail? Same recipe, just swap out Diplomático Planas for Diplomático Mantuano for more rich, fruity aromas.
3. Passionfruit Mantuano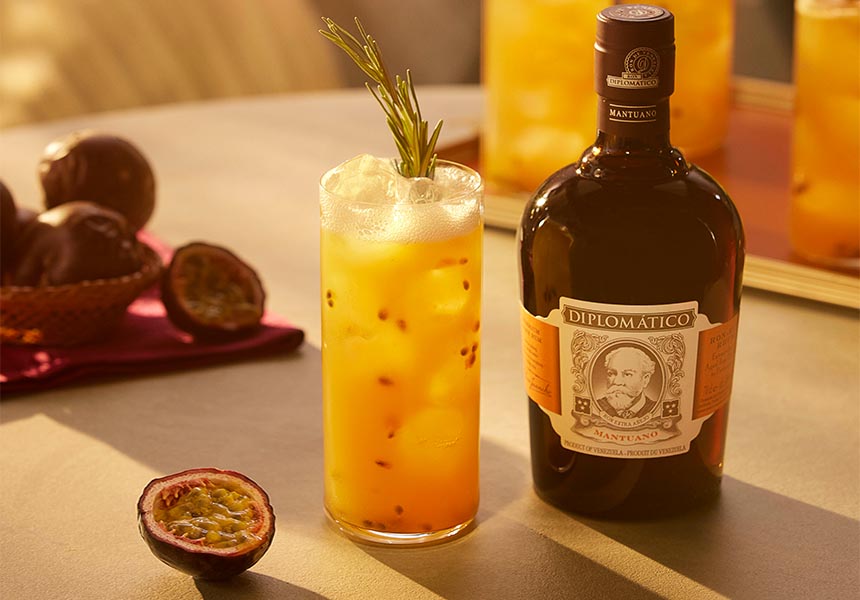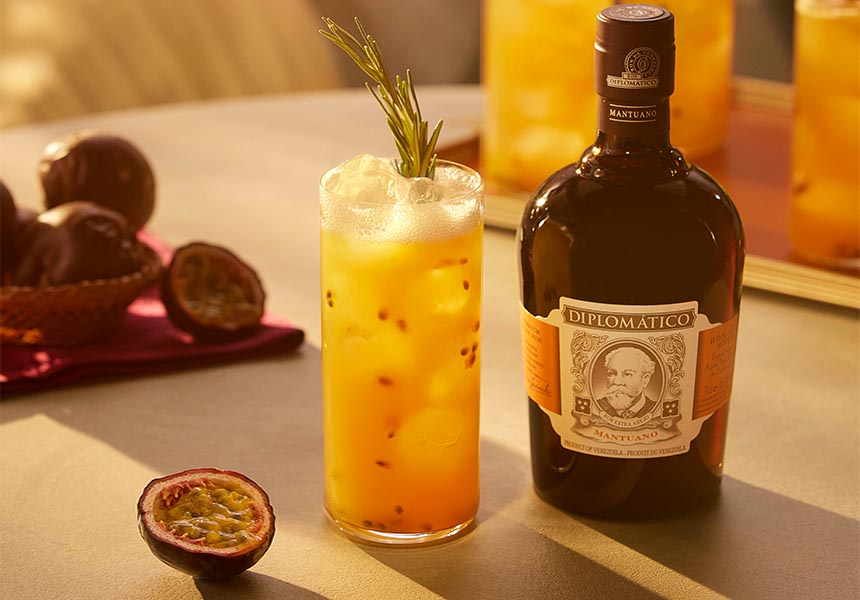 Get acquainted:
Rich, romantic, aromatic. Charming but complex. Classy but with a twist. Brimming with tropical flavors that brings rich Mantuano to life in an exciting new way for the time of the season.
Where to enjoy:
The one to get the conversation flowing that stretches long into the night.
Perfect with:
A few salty nibbles and a blanket under a warm starry night.
How to make:
50ml Diplomático Mantuano
100ml mango soda
30ml passionfruit juice
1 ½ lime juice
10ml vanilla syrup
Mix all ingredients (except the mango soda)
Shake with ice
Serve into a Collins glass
Add ice
Top with mango soda
Garnish with rosemary
Serve by candlelight and in good company!
4. Diplomatico Spritz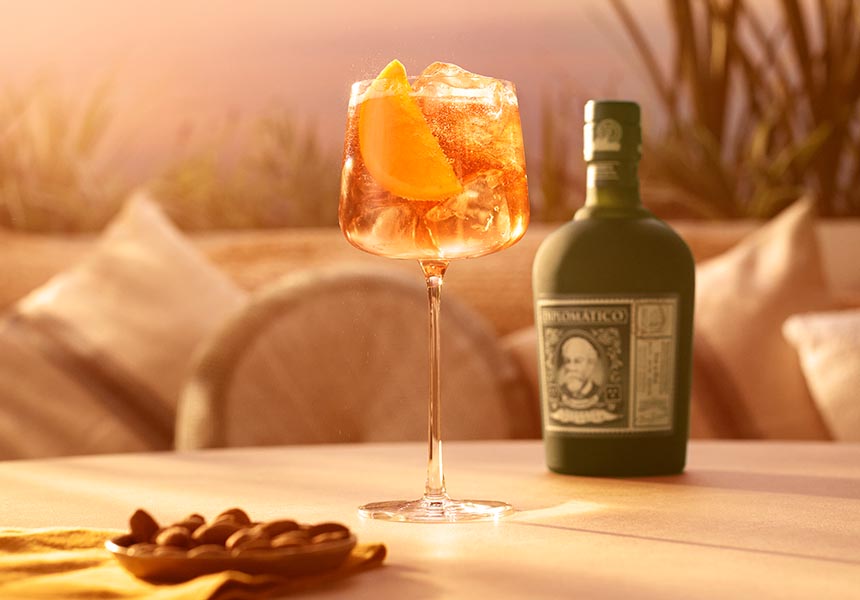 Get acquainted:
Sweet, vibrant and refreshing. An understated classic. A perfect balance of punchy, sweet, and aromatic. Simple in ingredients yet complex in finish. And of course, an unforgettable shade of delicious orangey-red to boot.
Where to enjoy:
Sitting outside and socializing with friends on those hot summer evenings.
Perfect with:
Summer scrapbook photographs taken as the sun turns the world gold at sunset. Also great at steaming summer BBQs as the horizon blurs.
How to make:
25ml Diplomático Reserva Exclusiva
50ml bitter liqueur
Soda water
Ice
Pour all ingredients into a wine glass
Garnish with orange slice
Serve to friends at golden hour!
5. Diplomatico Piña Colada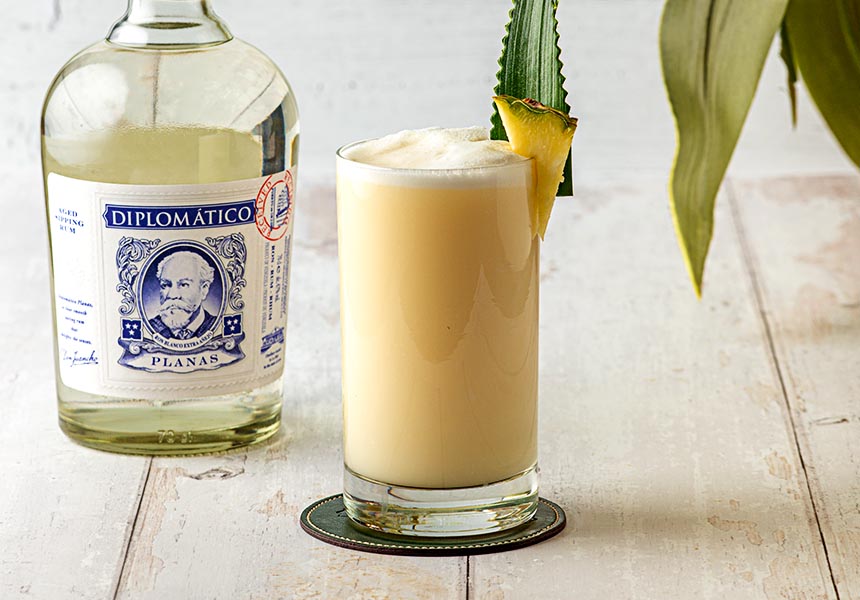 Get acquainted:
Tangy, sweet and decadently rich. A tropical blend of aged white rum, coconut cream and pineapple juice from San Juan, Puerto Rico. The ultimate summertime indulgence without compromise.
Where to enjoy:
Centre of attention on a sun-kissed lounger.
Perfect with:
Count on this to get you going. Goes with all things sweet, like a tray of tropical fruit.
How to make:
50ml of Diplomático Planas
120ml pineapple juice
40ml coconut milk
1tsp lime juice
15 ice cubes
Add all of the ingredients into a blender and blitz until smooth
Pour into a tall glass
Garnish with fresh pineapple
Serve as the sweet summer treat that it is!
And there you have it. Our list of summer's most treasured rum cocktails brings the sensual taste of Diplomático rum to life in colorful new ways to suit any beach-side occasion, or even if you're just sitting in the garden.
It's time to stop for a moment and drink it all in. Which refreshing rum cocktail from the Diplo summer collection will be your perfect match this year?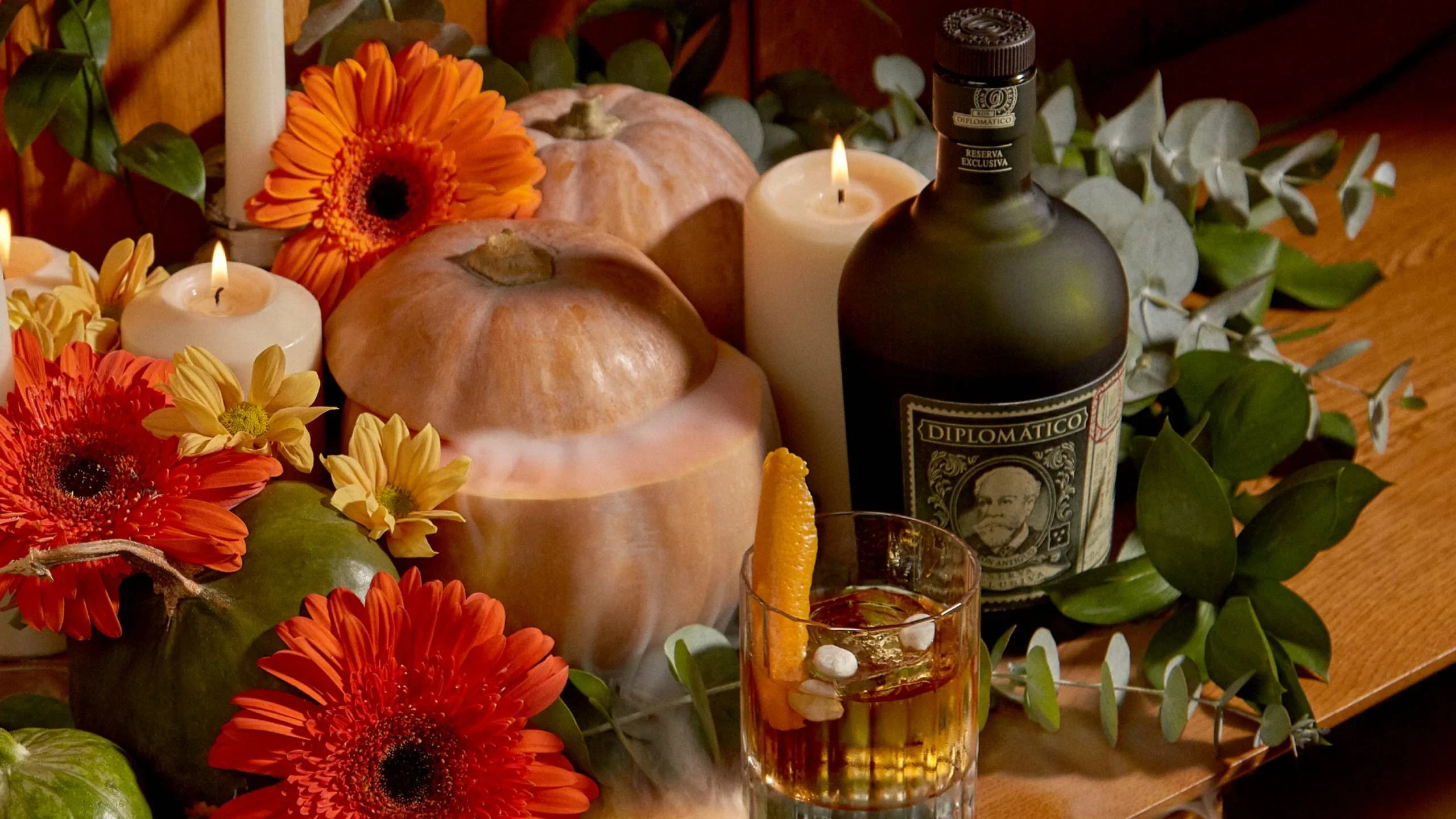 Cocktails
Halloween cocktails with Diplomático Rum
9 October, 2023:
The arrival of October brings one of the most awaited dates of the year for […]