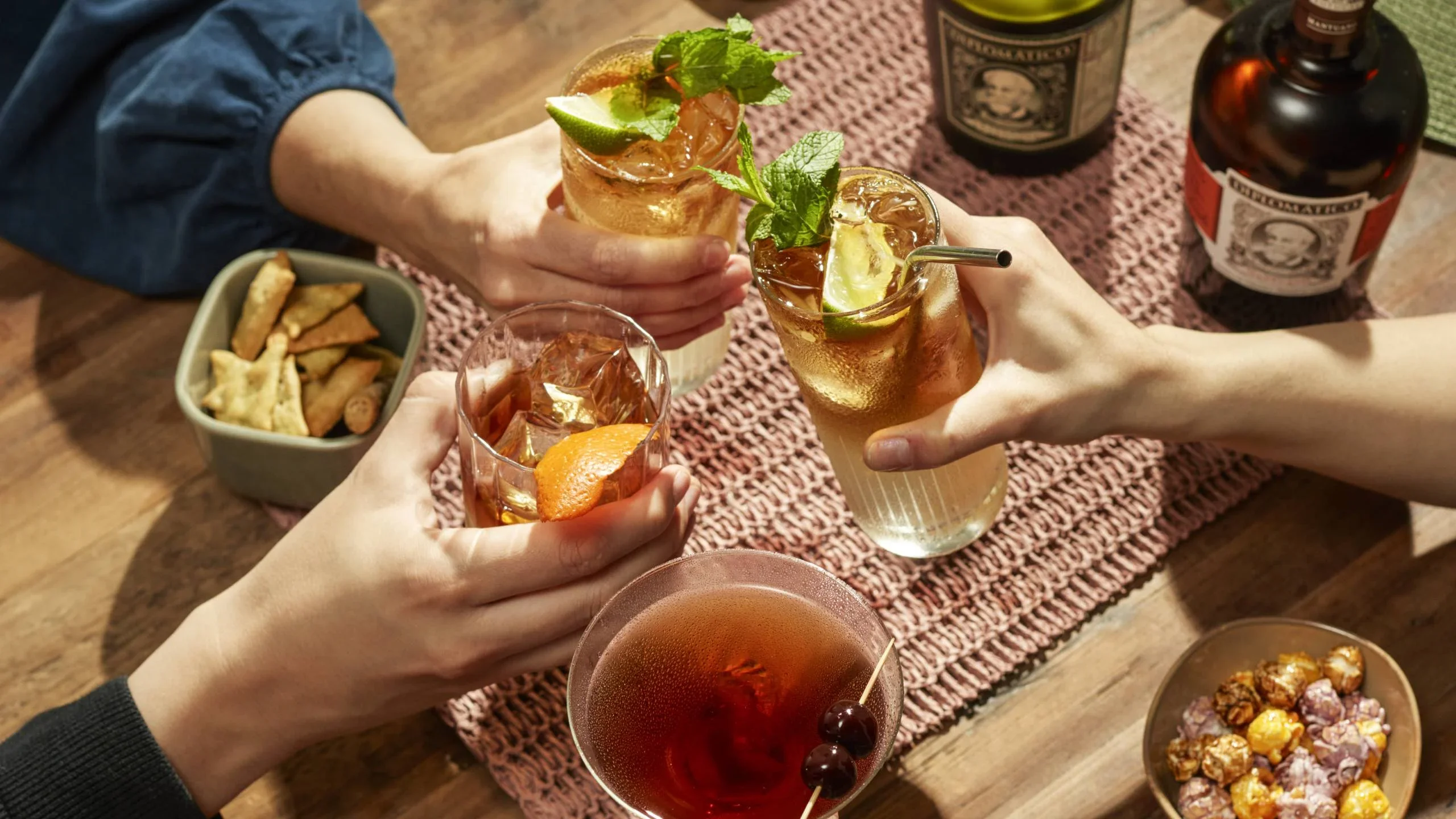 Best Rum Cocktails to Celebrate
11 May, 2021
There's no greater way to celebrate than with some good old, homemade rum cocktails.
If you are planning to host a celebration, it's moment to relax and just enjoy yourself while experimenting with some mixology from the comfort of your home. We'll tell you exactly how and why to make each of these dynamic drinks – Stay with us and we'll talk you all there is to know.
What Mixes Well With Rum?
Rum is known for being one of the best distilled spirits for the purpose of mixing drinks. Pairing lighter (young) or darker (aged) rums with flavor specific ingredients can make you into a mixologist within minutes; one of many reasons why rum have so many fun combinations.
Light and dark is the key, you see. Rum holds very distinct flavor profiles between blends, so knowing how to best mix each of them is essential to successful cocktail making. Here are some of the better flavor pairing profiles for both white and dark rums:
Younger, lighter rums tend to be more versatile when it comes to mixing. Tropical fruits, herbal blends and sweet treats make for easy, homemade cocktails when paired with a premium white rum. Some of our favorite combinations include:
Coconut water, tonic water, flavored waters, lemon or lime, pineapple juice, maple syrup, herbal teas, champagne, pink grapefruit juice, marmalades, pomegranate syrup, lavender bitters, herbs.
Darker, aged rums are naturally complex on the palate. The mixing spectrum remains broad, however it gravitates more toward spices, dark fruits and decadent treats. Here are some that we'd recommend:
Bitters, orange juice, cranberry juice, ginger ale, fruit punch, cola, ice cream/cream, spices, chocolate, coffee, iced tea, vanilla, grenadine, limes, passion fruit, caramel.
Best Rum Cocktail Recipes
These three iconic rum cocktail recipes are loved far and wide. The mojito, daiquiri and piña colada form part of a universal language that seems to be understood no matter where in the world one finds themselves. Classic cocktails have a special way of bringing us home, even when we are far from it.
A well-made mojito is about freshness, balance and to suit all tastes. This is a versatile drink, one that falls under both light and dark rum cocktails, depending on your personal flavor preference. You'll need:
50ml of Diplomático Planas
5ml lime juice
5ml sugar syrup
25ml soda water
4 to 6 fresh mint leaves
Set the mint in the bottom of a tall glass, and mash it with a muddler (or the back of a knife). Add the rest of the ingredients, charging with soda and crushed ice last. There you have it — a classic mojito!
The Negroni (with a twist)
 It took a good century or so, but the Negroni is now one of the most widely embraced cocktails in the world. Traditionally the Negroni is made with gin, but we add a twist by replacing this liquor with a very special rum.
Add all of the ingredients into a tall glass, and stir. Strain it over ice into a classic tumbler, and garnish with a grapefruit peel (one final twist!).
The daiquiri is the epitome of simplicity, and amongst the most popular of all rum cocktails. To make a daiquiri at home, you'll need:
Shake all of the listed ingredients together and serve in a previously chilled glass. Elegance made drink, right?
If you like piña colada… You'll love our classic recipe!
50ml of Diplomático Planas
120ml pineapple juice
40ml coconut milk
1tsp lime juice
15 ice cubes
Add all of the ingredients into a blender and blitz until smooth. Pour into a tall glass and garnish with fresh pineapple. Then, let yourself go and enjoy!
A classic cocktail from the 1800s that we like to add a twist. Manhattan cocktails offer room for creativity, so our rum-based version is the perfect pre-dinner drink.
Shake all of the ingredients together and then strain into any glass of your choosing. Garnish with maraschino and a lemon peel.
Aged Rum Cocktails
Aged cocktails, like spiced rum cocktails, offer a more layered and experimental cocktail making experience. Typically, using aged rums gives a unique depth and complexity to every mix no matter what accompanying ingredients are chosen.
Here are some better known cocktails, and the Diplomático rum that pairs best with each of them:
Did you write it all down? After class, we expect to test your skills! Ice cubes, cocktail glass and Diplomático… Let's enjoy the celebration!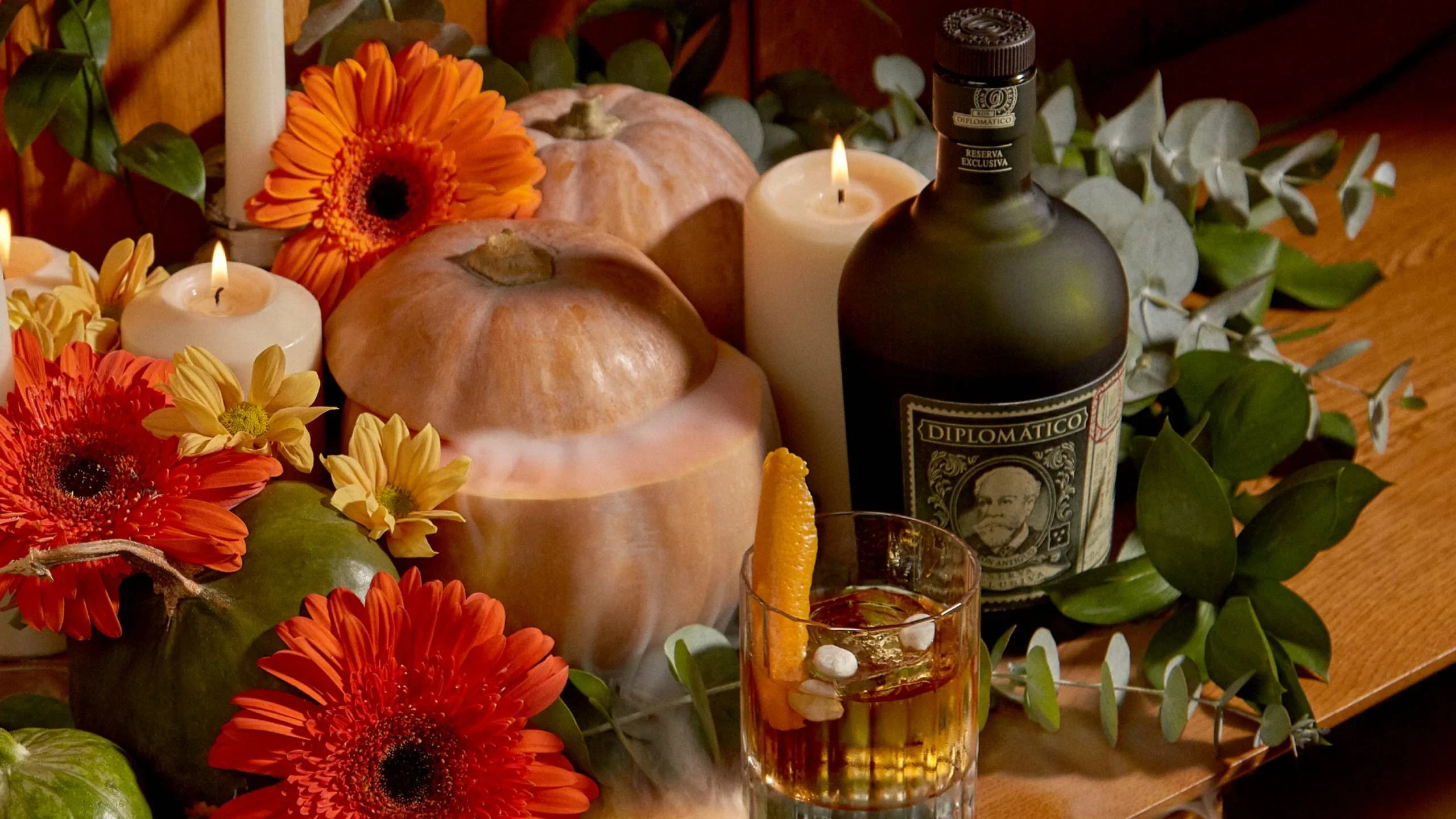 Cocktails
Halloween cocktails with Diplomático Rum
9 October, 2023:
The arrival of October brings one of the most awaited dates of the year for […]